Downtown Toronto's thriving condo market is another reason why parks are so important in the city. As more people choose to live in condos in the downtown core, the need for green space becomes even more critical. Condos often lack private outdoor space, and parks provide a much-needed respite from the busy urban environment. Condo dwellers can use parks like David Crombie Park and Clarence Square to relax, exercise, and connect with nature.
Parks also play a crucial role in the development of new condo projects. In recent years, developers have recognized the importance of green space in creating attractive and livable communities. Many new condo projects in downtown Toronto include parks and public spaces as a core feature of their designs. For example, the new Waterfront Innovation Centre, which includes residential condos, will feature a large park as part of its development.
In urban planning , parks are crucial for economic development. Green spaces have been shown to increase property values, attract tourists and businesses, and stimulate local economies. In downtown Toronto, parks such as the Harbourfront Centre and Queens Quay provide a unique waterfront experience for tourists and residents alike, contributing to the city's economic growth and development.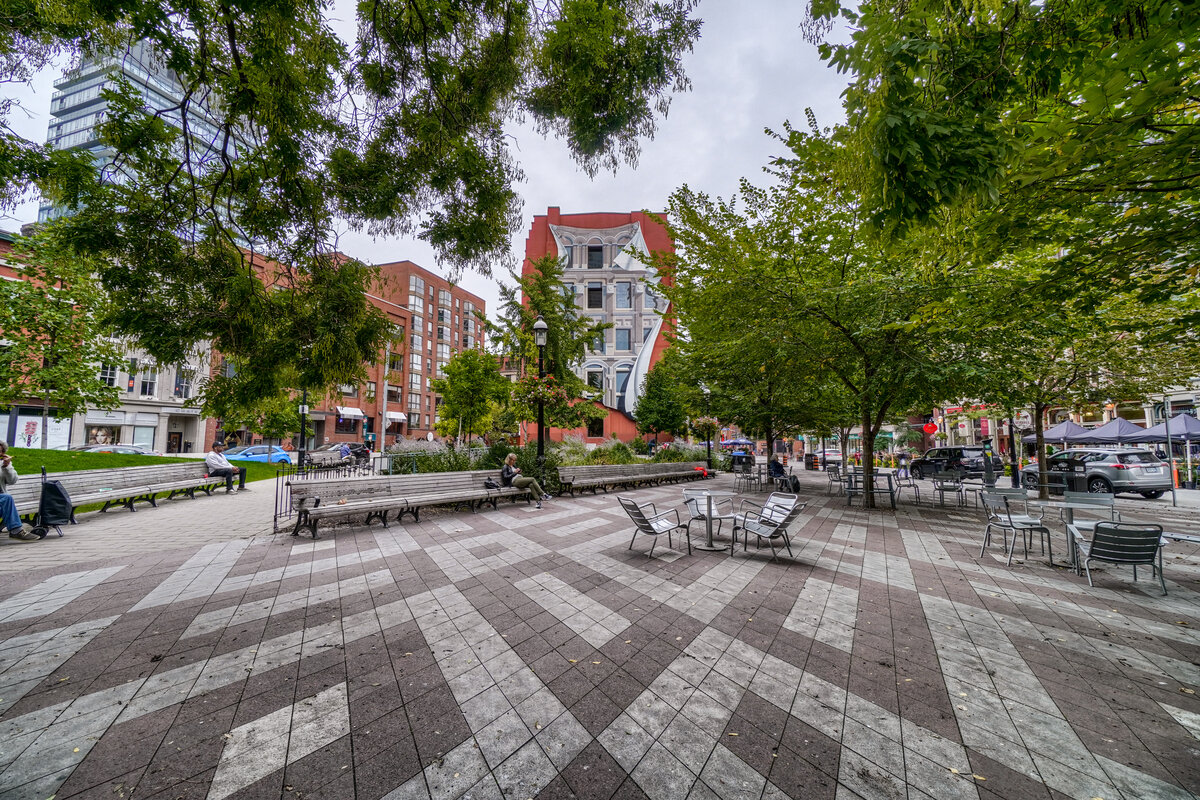 When looking at property values, we can observe that condos with proximity to parks often command higher prices in the real estate market. Condo buyers are willing to pay a premium for units with a view of a park or easy access to green space. Condos with proximity to parks are particularly desirable for buyers, as they offer the best of both worlds - the convenience of urban living with the benefits of green space. Condos like The Well, located near Victoria Memorial Park, and Lighthouse East Tower, located near Corktown Common, are examples of new condo projects that feature green space as a core component of their designs.
Moreover, parks offer condo residents an escape from the busy urban environment, providing a place to relax, exercise, and connect with nature. In a busy city like Toronto, parks offer opportunities for physical activities such as jogging, walking, and cycling, which can improve physical and mental health. Condo dwellers can use parks like Canoe Landing Park and Sugar Beach to unwind and recharge after a long day at work. Parks also offer opportunities for social interaction and community building, which are particularly important for condo residents who may not have access to private outdoor space.
In conclusion, parks are crucial components of Toronto's condo market, enhancing the overall quality of life for residents and contributing to the value of the city's real estate market. With so many people choosing to live in condos in the downtown core, the need for green space has become even more pressing. Developers are responding by creating green spaces that enhance the livability and attractiveness of their condo projects. As Toronto's condo market continues to grow, it is essential to prioritize the creation and maintenance of parks to ensure the city remains a desirable and sustainable place to live.